If you are looking to continue your studies at a graduate school in the US or Canada, you'll likely have to take the GRE (Graduate Record Examinations). Even if you hold a degree already, many individuals opt to further their education to improve their employment options in the future. Today we're going to share our top ten best GRE prep books for 2021 to help increase your chances of continuing your education this year.
Why use a GRE prep book?
A good GRE prep book will help fully prepare you for your exam, and you'll have a better understanding of the questions that you may be asked and how to handle this type of examination. You'll find a GRE prep book that allows you to make the most of any time you have to study.
To increase your chances of success, look for a GRE book that offers in-depth material and practice tests. It's almost impossible to succeed in these tests without practicing a few times, and you'll understand the format and difficulty level you can expect from the GRE. A good GRE prep book will help you learn how thorough your answers need to be, setting you up for success and a greater chance of attending the graduate school of your dreams.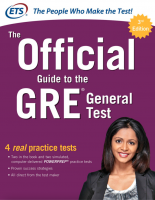 The Official Guide to the GRE Revised General Test, ETS, 3

rd

 Edition
ETS is the company that writes the GRE test questions, so you can be guaranteed this will be a useful tool for your studies. The book offers four practice tests, and each of them offers completely different material. It's one of the most thorough guides to the GRE and includes PowerPrep tests you can take on your computer.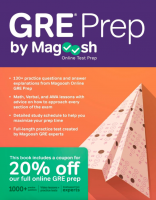 GRE Prep, Magoosh
This paperback book offers 468 pages of GRE prep, with over 1,000 practice questions. Users will appreciate the detailed explanations for the answers, which help identify where you went wrong if you got them incorrect. You can study with this book by itself or alongside the Magoosh GRE Prep course for a complete experience.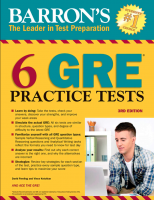 6 GRE Practice Tests, Barron
This is one of the most comprehensive books available, although the publishers are not as experienced in this field as other books listed here. The questions are excellent for preparing for the GRE, but we found they are a little harder than the real-life test.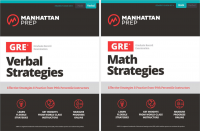 GRE Verbal & Math Strategies Set, Manhattan Prep
This bundle of preparation materials offers high-quality test questions, although the explanations are a little shorter than in other books. If you need to brush up on your math skills, it's an excellent option for you, but the explanations are not detailed enough for anyone needing to learn the basics.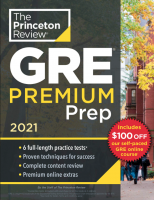 Princeton Review GRE Premium Prep, 2021
You'll enjoy 6 full-length tests to practice in Cracking the GRE, which was published last year. There are full explanations for the answers to each question, and you'll be able to receive an indication of how you scored from your practice tests. Users will appreciate the tactics and strategies shared in this book, as well as the vocabulary list.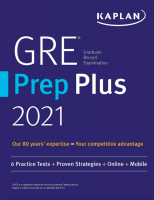 GRE Prep Plus 2021, Kaplan Test Prep
With more than 1,700 practice questions and six tests to choose from, this is a comprehensive book that covers the three sections of the GRE. There's also an online aspect to this book, which allows you to create a personalized study plan.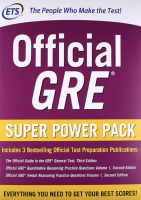 Official GRE Super Power Pack, ETS
If you are looking for a complete revision solution, you'll want to consider the Official GRE Super Power Pack from ETS. It offers three books in one bundle and includes four practice tests and 600 questions. It's a great deal for anyone looking for a complete study option.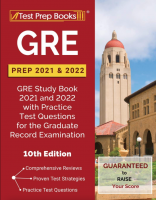 GRE Prep 2021 and 2022, 10th Edition, Test Prep Books
Practice your verbal reasoning, analytical writing, and quantitative reasoning with this GRE exam prep book. It was only released at the end of 2019, so it's still current for this year's exams. The strategies shared in this study guide are very helpful for anyone looking to push their GRE score higher.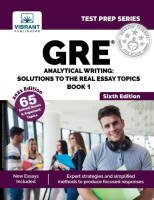 GRE Analytical Writing: Solutions to the Real Essay Topics, 6th Edition
This series of books by Vibrant Publishers offers sample essays for the GRE written by , which is something very few of the books on this list offer. If you are concerned about crafting the perfect essay response, this is a good option. You'll find 145 sample answers to read, so there's plenty of content to consume when preparing for your exam.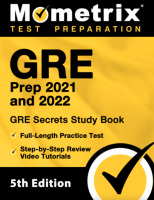 GRE Prep 2021 and 2022 – GRE Secrets Study Book
In addition to the 136 pages of the book you'll get access to step-by-step video tutorials for the Verbal Reasoning Test, the Quantitative Reasoning Test and the Analytical Writing Test. Although I found some of the questions a bit too basic/ below the level of the real GRE exam – the book is very comprehensive.